Yacht Deliveries by Captain Sandy Young
Yacht Deliveries: Captain Sandy Young will deliver your vessel to any US East Coast, Gulf Coast, Canada East Coast, Great Lakes, Western Rivers, ICW or Carribean areas. Other area or destinations are also possible upon discussion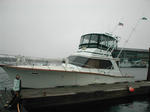 Background and Experience
Capt. Sandy Young is a graduate of a Merchant Marine Academy, currently holding a Master license any ocean, any tonnage, endorsed for Freight and Towing.
Sandy has over 50 years of both ship and small boat experience, and 30 plus years in the marine industry including surveying, master tow boats, vessel repairs, chartering, operational coordination, logistics and yacht deliveries.
Sandy currently holds a Coxswain rating in the USCG Auxiliary and pariticipates in recreational vessel safety programs and is an instructor of navigation and boat handling courses.
As a boat owner, both power and sail, Sandy is extremely aware of the owner's concerns for boat handling and responsibility.
With years of experience, each boat is treated as if it were his own in order to ensure the owners satisfaction with the service provided. Our main concern is the owner and the safety of the vessel.
Availablity and service:
Sandy, and his very experienced crew, will deliver your boat to or from any port you require at a reasonable price and professional manner. We take pride in keeping boats safe, seaworthy and delivered in the conditon or better condition than we boarded it.
Training:
Should you desire instruction in boat handling, navigation and or seamanship while underway we are more than willing to teach and instruct anything we can while a delivery is being conducted.
I am also available on a daily basis to provide training and instruction in all aspects of boat handling and navigation including Rules of the Road.(This would have to be limited to the local area except during a delivery operation)
We are available for service in either delivery operations or as a part time vessel captain, (when needed for vacation purposes), on fairly short notice and for extended periods of time.
Please feel free to contact me for estimates or quotations at any time at the number provided below.
I will gladly furnish references upon request.
Contact us at 207 633 5018